wth i haven't blogged in ages!
but i only played a few shows over the summer - one with laurie (from my live coding band TYPE) as TRVE YORKSHIRE KVLT ENSEMBLE a very silly live coded black metal gig at sonic pattern. we wore corpse paint. i enjoyed it, but not sure anyone else did.
also did another blood sport gig at tramlines which was pretty cool and they had ting on the rider (nice)
also played at the sheffield electronic showcase organised by my nice friend chris which was a totally banging night. tbh i don't remember my set that well but i think it went well?! probably used the skeletor samples. pink lucozade on the rider (strong). oh yeah also everyone was really cute about my set including one guy who said "i luv broken sounds" <3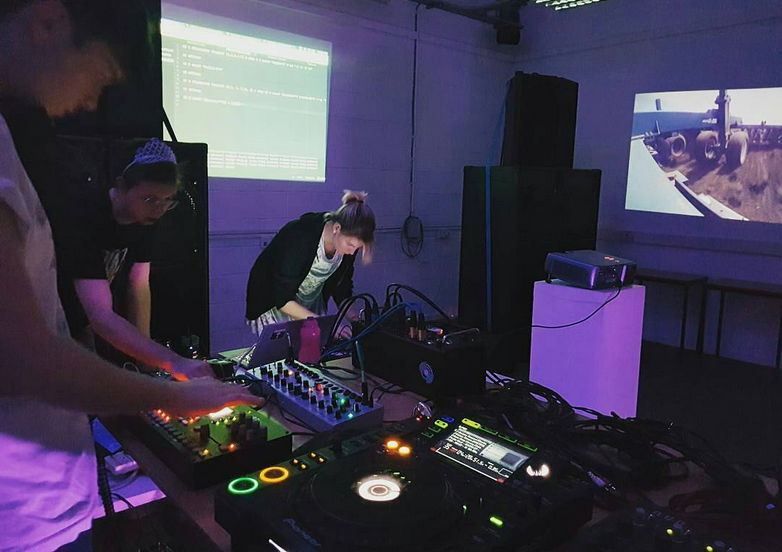 more recently i did another b2b2b2b2b2b2b2b thing at no bounds festival with blood sport but nick and alex did more live synthy stuff this time. it was really fun but there wasn't really anyone there which was a shame.
on to the hard stuff
the reason i'm really writing this blog is because we just had the 2017 festival of algorithmic and mechanical movement aka algomech in sheffield. organised by the eternally energetic alex mclean it was just a wonderful time and i did a lot of cool stuff. thanks again alex for organising everything!
gigs with 65dos
i had the very good fortune to be asked to support 65daysofstatic as heavy bleeding live with blood sport. there were two gigs where 65dos were debuting a new performance 'decomposition theory' which is like the band composing live and jamming with algorithms. it was vvv cool and loud and they had super nice visuals (also coded? idk?).
we had a bit of stress at the first gig as blood sport were having a hard time getting hold of a drum kit and we hadn't practiced as much as i would have liked but it was all good once we got on stage and we played great. some guy was kindof an asshole in the crowd after too but w/e.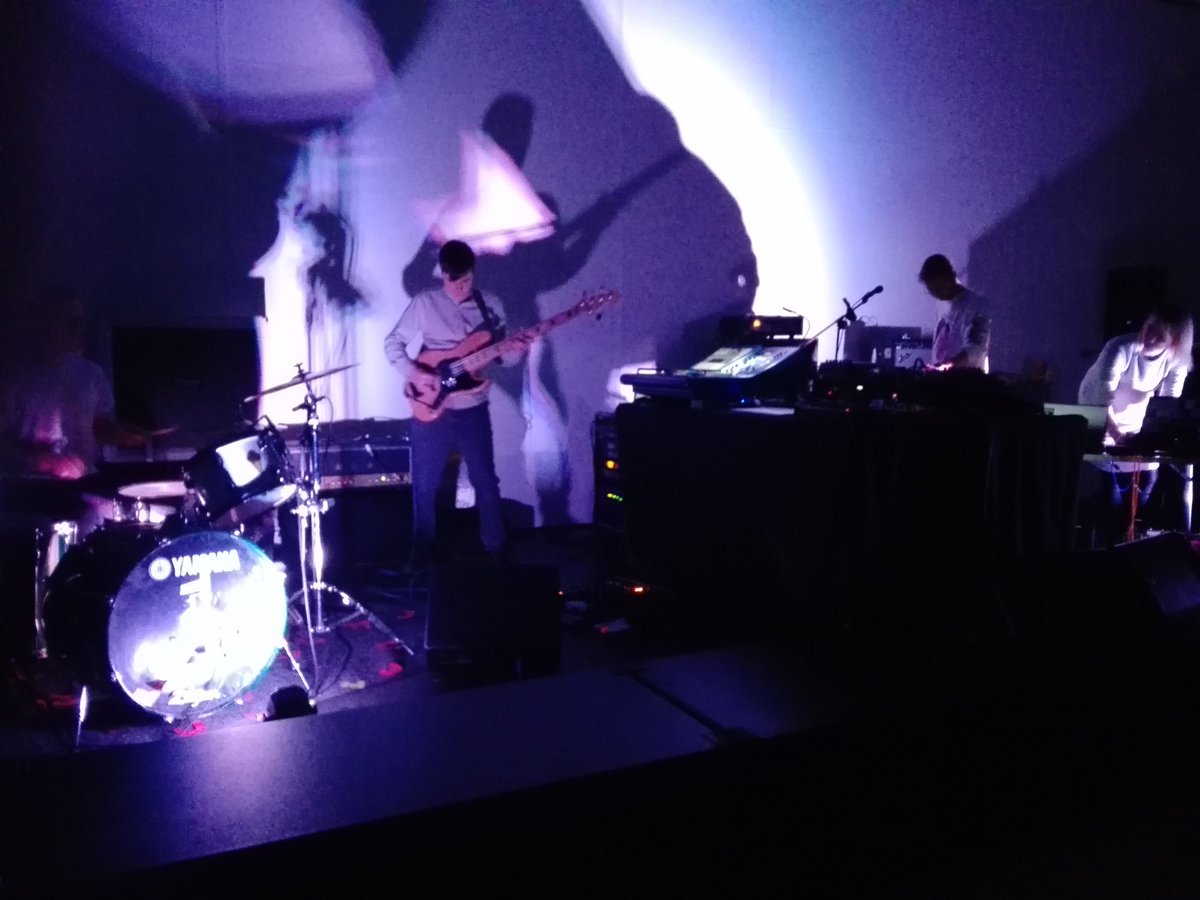 the second gig was totally plain sailing, we played the best we ever played and it seemed to go down really well with the big crowd. i was kinda worried about this as obviously everyone was there primarily for 65dos and also we were playing pretty early. but there was no need to stress at all we got a great reception and some cool comments from people in the crowd and online. i was super hyper after. laurie and ryan (the rest of TYPE) came along and we went to the pub after and then got late nite pizza at da vinci's.
s/o to ryan and laurie for sticking up for me when this guy in the pub was being kindof challenging talking about WOMEN.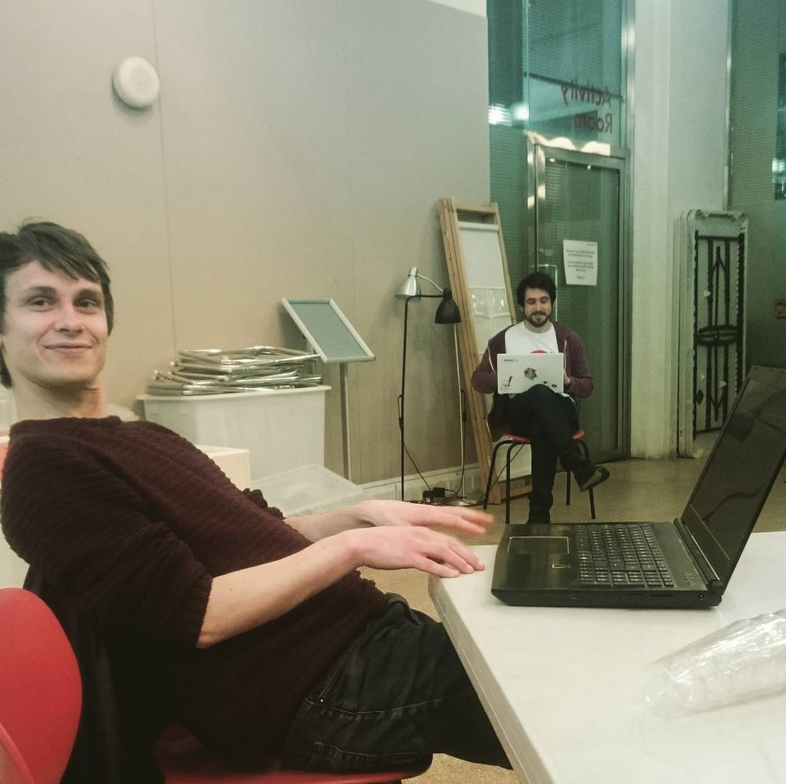 anyway i felt like a total cool dude rock star after this gig so thanks everyone who contributed to that.
SONA installation
the next thing i did at algomech was install an installation i created as part of my women's sound collective SONA with amy beeston and deborah egan. the piece was called 'unmaking acoustics' and was an interactive audiovisual installation using sound analysis to respond to room sounds. we created a soundscape using the sounds gathered at connect the dots which have been sat on my hard drive for a whole year! again we had a bit of a stress getting everything ready last minute, but we got there and i think the installation turned out pretty good. i've never done anything like that before really so it was cool to get the experience and i feel as though i learned a lot.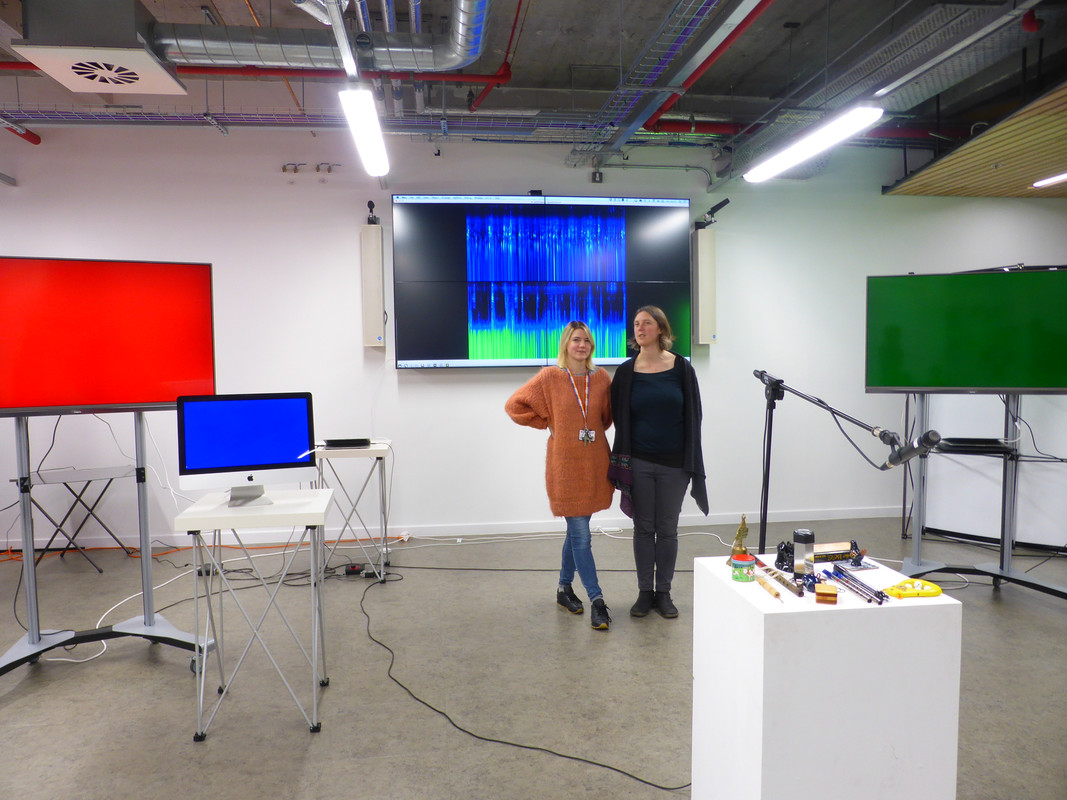 quite a few people showed up and everyone was engaged with the installation and seemed to have fun playing with it.
me and amy did a lot of work on documentation including filming some videos so i'll share those when i can :)
al-go-ra-ve
the big one! i played this with ryan and laurie as TYPE aka the world's goofiest/happiest live coding band. we did a kinda psychy set which seemed to go down really well. unfortunately there were some technical difficulties, particularly with the projection which detracted a bit from us being able to really enjoy the performance, but i think we turned it round. i was happy anyway!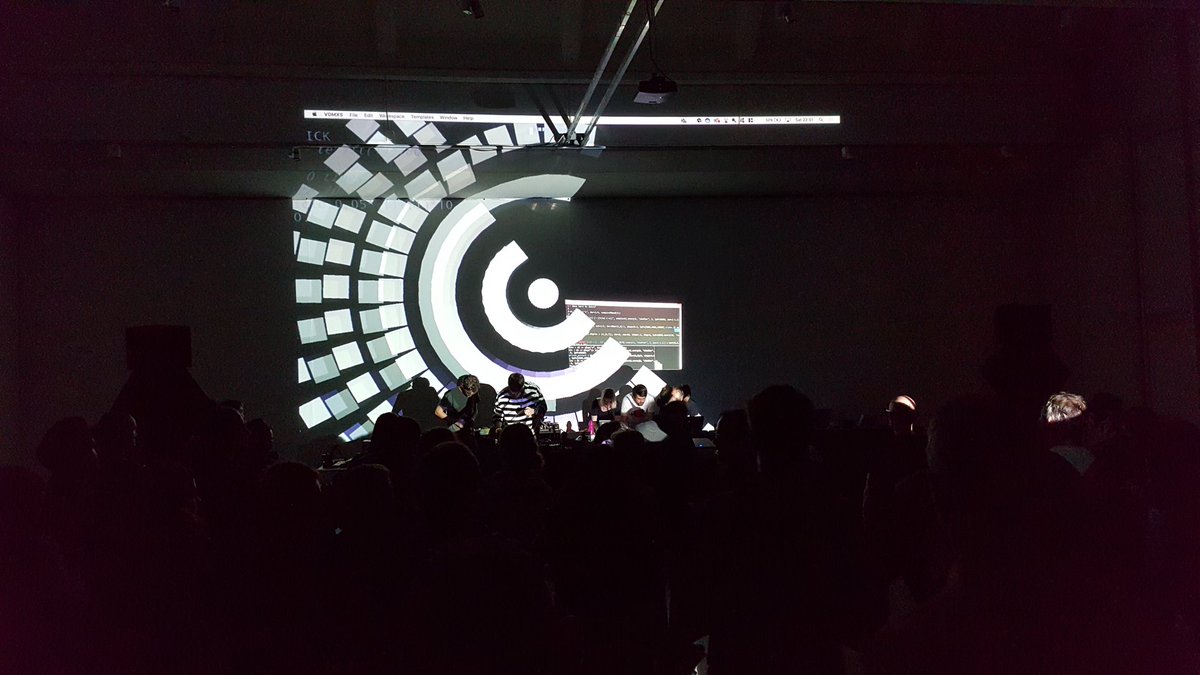 i also got interviewed by some journalists from the guardian!!! they filmed it so hopefully i don't look like too much of a dork on there. i will share if i ever see any results…?!
everyone else who played was absolutely incredible, just such a fun night, and so cool to see so many people i know and love (including some people who i haven't seen since LAST algomech!) and just to hang out etc. by the end i was super tired and i'd had too much caffeine so i bailed on the pub, which was probably the right decision, but i still kinda feel i missed out on the cool live coding hangouts.
SO i'm pretty tired but really happy and proud of all the stuff i was involved in and so thankful for all my wonderful collaborators laurie johnson, ryan kirkbride, amy beeston, nick potter, alex keegan and sam parkin <3 <3 <3